DR. DON W. BROWN IS BRINGING STATE-OF-THE-ART VASCULAR SURGICAL CARE TO SOUTHERN KENTUCKY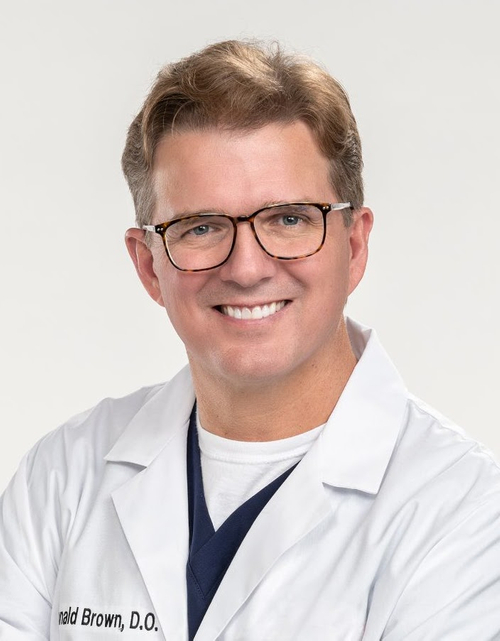 GET TO KNOW DR. BROWN
Dr. Don Brown is passionate about helping patients feel healthier and live pain free. His commitment and passion surrounding medical education keeps him at the forefront of vascular surgery. He sincerely believes that patients in rural areas deserve the same excellent care as those living in more urban environments.
It was this conviction that led him to open his own private practice in Somerset, Kentucky after spending over 20 years practicing in Bowling Green. Together with his wife, Mollie and their four children, the Browns are excited to call Somerset home. Dr. Brown is active in his community, and, as a former coach, loves the sport of high school football.
EDUCATION
Dr. Don Brown earned his degree in osteopathic medicine from the Oklahoma State University College of Osteopathic Medicine.
He completed his surgical residency at the Cleveland Clinic and a vascular fellowship at Botsford General Hospital.
Dr. Brown is board-certified in general and osteopathic vascular surgery and fellowship-trained by the American College of Surgeons and the American College of Osteopathic Surgeons.
His specializations and primary research and educational interests include peripheral vascular disease, osteopathic vascular surgery, endovascular treatment, pain management, and aortic disease.
In addition to significant clinical experience, Dr. Brown has also served as the assistant dean of the University of Kentucky College of Medicine Bowling Green Campus and has served as faculty of several medical schools including Touro University College of Osteopathic Medicine, Lincoln Memorial College of Osteopathic Medicine, and University of Kentucky College of Medicine. He has also served as a general surgery program director and as the Director of Medical Education overseeing the development of several residencies and fellowships in Bowling Green.
PUBLICATIONS, PRESENTATIONS & AWARDS
Preceptorships
Multiple Medical Students 2003-present
Lectures / Local
Women in charge- venous disease 2003

Rotary club- endovascular management of vascular disease 2003

Men's Health Alliance- Endovascular management of vascular disease 2003

The Medical Center- Management of DVT 2004

Heart Ambassadors at TMC- Management of AAA 2005

The Medical Center- State of Medical Education 2015

The Medical Center- Great Vessel Disease 2015

The Medical Center and Regional Expansion Committee-State of Medical Education 2016

Western Kentucky Heart and Lung Conference- Management of AAA 2015

BGCA Stakeholders- The future of BGCA 2016

Western Kentucky Heart and Lung Conference- Management of peripheral vascular disease physician panel 2016, 2017

Western Kentucky Heart and Lung Research Foundation and Educational Trust- State of medical education at the Medical Center 2017

Caring for the commonwealth- A discussion about creating a new full four year regional medical campus in Kentucky 2017,2018

Annual medical staff meeting, The Medical Center- A presentation regarding the state of medical education in this region, 2016, 2017

Joseph Underwood Society- A discussion about creating a new full four-year regional medical campus in Kentucky 2017

XV- A discussion about creating a new full four-year regional medical campus in Kentucky 2017

Bowling Green Leadership Forum- A discussion about creating a new full four-year regional medical campus in Kentucky 2017

University of Kentucky College of Medicine Bowling Green Campus Open House- Introduction of the need of a new regional medical campus and a discussion about its implementation, multiple dates 2017, 2018

Multiple lectures for the General Surgery Residency Program 2019-present
Events / National
Annual Clinical Assembly- Surgical approaches to the lower extremity PVD 2005

Annual Clinical Assembly- Management of Ruptured Aortic Aneurysms 2010

ACGME national meeting - Shepherding the journey from AOA to ACGME: implementation of a roadmap for program and learner transitions, 2018 Forum presentation
Publications
Petruso, Watson, Brown, Heck. A Novel Approach for Acute Complex Regional Pain Syndrome. Practical Pain Management July/August 2016

Novel Approach for Surgical Thrombectomy- Submitted to the Journal of Vascular Surgery June 2020
Awards
Surgical Service Award: Presented to Outstanding Surgical Medical Student By Woodrow Wilson, 1996
PROFESSIONAL MEMBERSHIPS
Kentucky Chapter of the American College of Surgeons

American Osteopathic Association

American College of Osteopathic Surgeons

Sigma Sigma Phi - National Honorary Osteopathic Fraternity