Identify Risks That Could Lead to a Stroke or Heart Attack
September is PAD awareness month, now is the ideal time to schedule a screening. Take charge of your vascular health today.
BOOK A SCREENING FOR ONLY $199.
Vascular screenings play a crucial role in identifying the risk of stroke or heart attack by detecting any underlying conditions or blockages in the arteries. These screenings are essential as they allow for early intervention and prevention, potentially saving lives and preventing serious health complications.
During September, we observe PAD (Peripheral Arterial Disease) awareness month, making it an opportune time to emphasize the importance of screenings. PAD is a common cardiovascular condition that occurs when there is a narrowing of the arteries, primarily in the legs and feet. If left untreated, PAD can lead to complications such as non-healing wounds, gangrene, and, in severe cases, amputation.
By scheduling a vascular screening, individuals can proactively assess their risk for cardiovascular disease. Through non-invasive tests like ultrasound and ankle-brachial index (ABI) measurement, healthcare professionals can identify blockages or abnormalities in the arteries. This information is critical in determining the need for further interventions, such as lifestyle modifications, medication, or even surgical procedures.
It is important to prioritize scheduling a screening, as early detection of potential blockages or underlying conditions allows for prompt treatment. Delaying or ignoring the signs and symptoms of cardiovascular disease can result in life-threatening events like heart attacks or strokes. Timely screenings not only help in preventing these events but also provide an opportunity to manage risk factors such as hypertension, high cholesterol levels, or diabetes.
To encourage proactive healthcare, we are offering vascular screenings for just $199. This pricing aims to make screenings more accessible and affordable for individuals. Please take advantage of this opportunity and take control of your health care with the knowledge a screening can provide.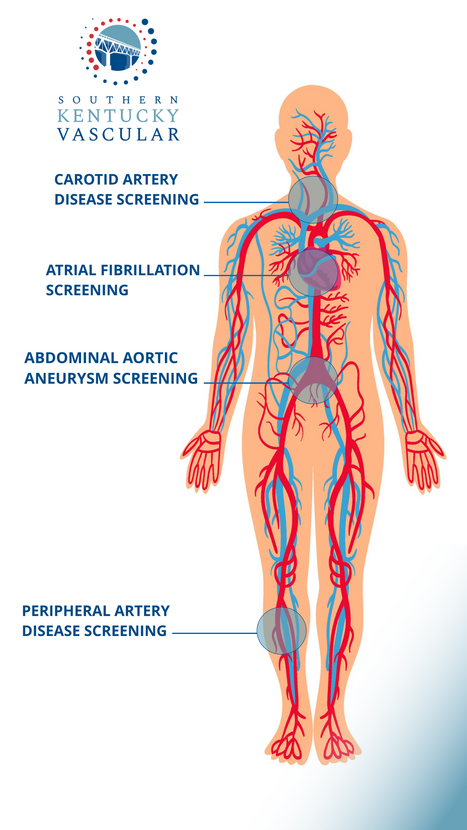 Screen Includes:
Carotid Artery Disease Screening

Screening to help identify the risk of stroke by testing for plaque buildup in the Carotid Arteries

Atrial Fibrillation Screening

Screening to identify individuals at risk for or already experiencing atrial fibrillation, a type of abnormal heart rhythm

Abdominal Aortic Aneurysm Screening

Screening to check for the presence of an aneurysm that could lead to a ruptured Aorta

Peripheral Artery Disease Screening

Screening for Peripheral Arterial Disease measures the circulation in your legs to identify risks of blockages
All screenings are self-directed and do not require an order from your physician.
Are You At Risk For Peripheral Arterial Disease?
Risk Factors:
Over the age of 55
Diabetic
Family History of Stroke, Heart Disease or PAD
High Cholesterol
Tobacco Use
High Blood Pressure Obesity
Sedentary Lifestyle
For more information or to schedule an appointment
Symptoms:
Leg Pain or Discomfort
Numbness or Weakness
Skin Changes on the Legs and Feet
Hair and Nail Changes
Slow-Healing Wounds
Cool Sensation or Temperature
Sometimes, there are No Symptoms
If you have risk factors, are experiencing symptoms, or have concerns due to family history, please schedule a screening. Screenings help save limbs and save lives.